9 Reasons Why Locals Love Leadville (and So Will You)
Flanked by the highest peaks in the Rockies and immersed in colorful mining and frontier history, laid-back Leadville and Twin Lakes offer an abundance of opportunities for you to be in your element — whether you're seeking year-round recreation, ravishing mountain scenery or a peek into the genuine Wild West.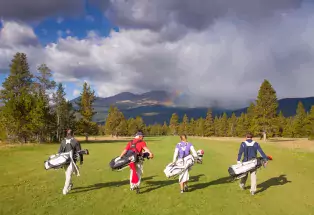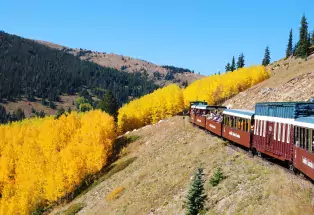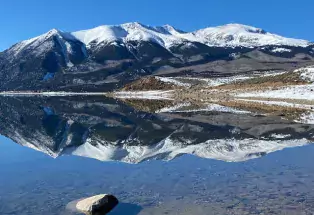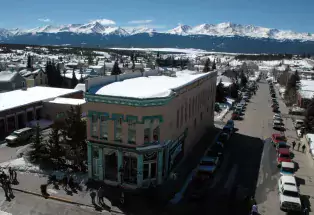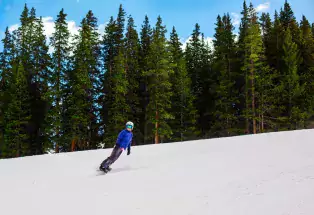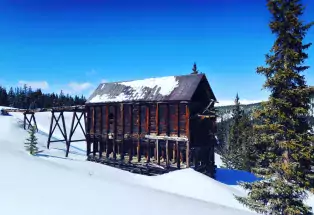 Read on for nine reasons to make a trip to Lake County, located about 100 miles from Denver in the heart of the Rocky Mountains. 
1. It's the epitome of Colorado high country.
At 10,152 feet above sea level, Leadville is the highest incorporated city in North America. Colorado's two tallest fourteeners — mountains higher than 14,000 feet — tower above the area, including 14,433-foot Mt. Elbert and 14,421-foot Mt. Massive. Twin Lakes, located adjacent to the state's two largest glacial lakes in the shadow of Mt. Elbert, provides gorgeous views of the neighboring summits and is a popular spot for photographers. 
A drive on the Top of the Rockies Scenic and Historic Byway is an excellent way to capture Lake County's best views. The 82-mile route traverses the 12,095-foot Independence Pass, affording sights of sky-scraping peaks, sprawling valleys and reflective lakes.  
2. From hiking and mountain biking to horseback riding and camping, only-in-Colorado outdoor experiences are plentiful in the area.
While many adventurers journey to the area to summit Mt. Elbert and Mt. Massive, there are hiking trails for all abilities in the Leadville vicinity. Hikers and bikers can choose to conquer a section of the Colorado Trail, a 500-mile route stretching between Denver and Durango, near Twin Lakes; or hop on the popular Mineral Belt Trail, which winds through conifer woodlands, aspen groves and wildflower meadows. Find more outdoor activities in Leadville and Twin Lakes >>
3. It's not just a summer destination.
A bounty of snowfall facilitates endless winter activity options. More than 100 miles of groomed, multiuse winter trails crisscross Lake County, perfect for cross-country skiing, snowshoeing, snowmobiling and fat biking (winter mountain biking on wide tires). Other possibilities for winter fun include snowmobiling, ice skating, sledding, and hut trips using the famed 10th Mountain Division Hut system. 
If downhill skiing is your preference, family-friendly Ski Cooper receives an average of 250 inches of snowfall a year and boasts more than 400 skiable acres. The ski area nestled atop Tennessee Pass (just 10 minutes from Leadville) is a true locals' favorite for its all-natural snow, variety of terrain and affordability.
In 2020, Ski Cooper added 70 skiable acres of double-black-diamond terrain, the Tennessee Creek Basin. Now, you can bring all your family and friends to Cooper, whether they're expert or newbie skiers or boarders. With a total of 59 trails, five lifts and terrain variety to choose from, groups of all ability levels will find something to love at Cooper.
Passes are required for entry for skiing, uphilling, eating in the lodge, or any other activity.
4. The train whistle still blows in Leadville.
Memorial Day weekend, the Leadville, Colorado & Southern Railroad winds visitors on an excursion through swaths of unscathed wilderness, including the Arkansas River Valley and San Isabel National Forest. On the Leadville train, spot deer or marmots as the stunning landscape slides by and capture amazing photos of fourteeners. Wildflower and fall-foliage excursions are particularly magical. 
5. Our affordable lodging enables visitors to do more — and stay longer. 
Mid-week lodging rates are particularly low, and from Victorian bed-and-breakfasts to historic hotels and modern motels, restful cabins and vacation homes and out-of-the-way campgrounds, there are places to stay in Leadville and Twin Lakes to accommodate every desire and budget. Plus, close proximity to popular ski destinations like Vail, Beaver Creek and Breckenridge (each about 40 miles away) make the area an ideal home base for summer and winter adventures. Browse lodging options >>
6. Leadville was the center of the Wild West.
Once one of Colorado's most lawless mining boomtowns, Leadville overflowed with fortune-seeking miners, infamous outlaws and brawny mountain men. Wealthy businessman Horace Tabor and his wife Baby Doe and gun-slinging dentist Doc Holliday are just a few frontier characters who contributed to the town's history — and their legends live on in Lake County's well-preserved historical sites and its many museums.
View replicas of underground mines and impressive collections of minerals at the National Mining Hall of Fame and Museum, then get an idea of how people lived in Leadville during the silver-mining boom at the Healy House Museum. Be sure to stop by the legendary Tabor Opera House, now undergoing its first full rehabilitation since 1879. Then tour the Tabors' Matchless Mine as well as Temple Israel, a historic frontier synagogue. Or stroll Leadville's National Landmark District, which includes 70 square blocks lined with Victorian-era buildings, most of which were built between 1880 and 1905. 
Learn more about historic attractions, museums and tours in Leadville >>
7. Leadville and Twin Lakes residents love keeping things local.
Many of the area's Victorian buildings house locally owned shops offering everything from rare antiques and frontier clothing to handmade art, homemade fudge and souvenirs. Peruse three floors of antiques at Delaware Mercantile, or watch artisans sew Colorado outerwear from fleece and other cozy fabrics at Melanzana. Meanwhile, one-of-a-kind eateries offer comforting, home-style grub.
For supper, snag a table at the Twin Lakes Inn and Saloon, where dishes like elk meatloaf and American buffalo broil will satisfy your appetite; or Nordic ski, snowshoe or hike — depending on the season — to the Tennessee Pass Cookhouse to fill your belly with delights like Colorado rack of lamb and stuffed rainbow trout (reservations required). Stop into Two Mile Brewing, the world's highest craft brewery, to try the Leadville Lager or the Camp Hale Pale Ale. Find more restaurants in Leadville and Twin Lakes >>
8. Your golf ball will fly farther here (for real!).
Thinner air at higher elevations enables golf balls to fly farther. And at 9,680 feet, Mt. Massive Golf Course is the highest golf course in North America, offering golfers the chance to tee off on greens surrounded by beautiful ranchland and forests with towering peaks on the horizon.
9. The fish are always biting.
Thanks to a wealth of pristine waters Lake County is an angler's dream. The Arkansas River, with its Gold Medal waters designation, is known as one of the best wild brown habitats in Colorado, and anglers are known to pluck 10- to 14-inch catches out of its waters. Other prime fishing spots include Hayden Reservoir, Twin and Turquoise Lakes and Crystal Lakes. Find guides and outfitters in Leadville and Twin Lakes >> 
Want more?
For helpful trip-planning resources, check out the Leadville-Twin Lakes visitors guide.
Discover more things to do in Leadville and Twin Lakes >>
Planning an autumn visit?