6 Colorado Trip Ideas for Solo Travel
Visiting Colorado as a party of one? Whether you want some time all to yourself or are looking to make some new friends on an adventure, we've got plenty to explore year-round.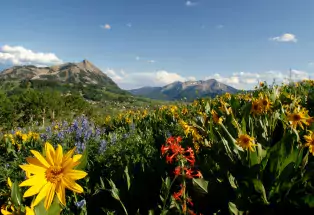 Hiking trail in Colorado's scenic backcountry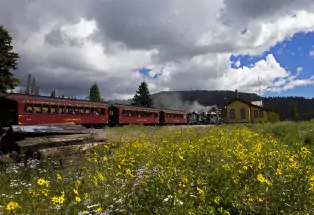 Cumbres & Toltec Scenic Railroad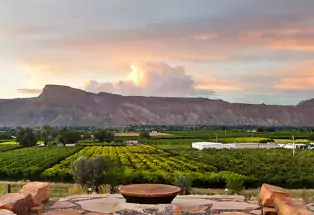 Vineyard views in Palisade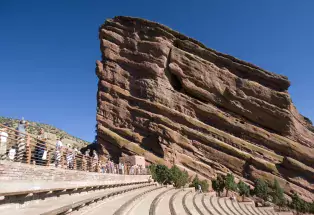 Red Rocks Amphitheatre & Park 
From hiking in canyons and enjoying concerts in the mountains to sampling wines in the desert, you'll find plenty of ways to make Colorado your dream vacation destination. The state's unique geography means that no two towns are exactly alike, which gives you an array of activities and adventures to choose from.
Make memories that will last a lifetime as you take a scenic ride on a historical train, roam our enchanting backcountry on guided trips, learn to whitewater raft and sip craft beers. Check out some of our favorite ways to solo travel in Colorado.
1. Live Music
Colorado has a concert scene that'll be appreciated by anyone who's mastered the art of curating a perfect playlist. Catching a show under the stars on the sandstone seats of Red Rocks Amphitheatre should be on every music-lover's bucket list. Just outside the charming town of Morrison, the famous venue is renowned for unparalleled natural acoustics, created in part by the towering rock walls that surround the seating. Red Rocks boasts a full roster of talent late March through early November, with past acts including a range of artists from Louis Armstrong and the Yeah Yeah Yeahs to Wiz Khalifa and Phoenix. Check out Red Rocks' current lineup.
Farther west in the scenic town of Telluride, sweet harmonics fill the air during the Telluride Jazz Festival each August. Catch daytime performances at outdoor stages with the San Juan Mountains as the backdrop, and kick back with shows in historical, intimate venues at night. The festival has hosted the likes of Etta James, Herbie Hancock, Macy Gray and more since it first kicked off in 1977.
Find more events and festivals in Colorado.
2. Wineries, Breweries & Cideries
With nearly 700 makers crafting refreshing libations across the state, it's hard to beat the Colorado Liquid Arts™ scene. Enjoy the fermented fruits of their labors while making new friends or solo-sipping some of our celebrated craft beers. Riff Raff Brewing Company in Pagosa Springs is Colorado's first brewery powered by spring-fed geothermal heat. Customize a tasting flight so you can try several of their beers — including a green-chili ale and a malty red — and snack on nachos and wings from their "Big Lebowski"-themed menu. Golden's Holidaily Brewing Company only uses locally sourced, gluten-free grains to craft their spiced saisons, fruity bitters and root-beer-infused stouts, and is raved about by reviewers with celiac disease and gluten intolerances.
On the western side of the Rockies, Palisade is in the heart of Colorado's wine country. Sip on a glass of petit verdot and chilled white cabernet sauvignon at Colterris Winery, where you'll be treated to views of the Grand Mesa and surrounding orchards. Billed as "the world's highest-altitude winery," Continental Divide Winery's tasting rooms in Breckenridge or Fairplay are the perfect places to sample a glass of rosé or enjoy a curated tasting experience.
And our ciders are, without a doubt, a new type of Colorado gold. With its riverside seating and a menu that runs the gamut from crispy to complex, Fenceline Cider in the town of Mancos is sure to delight. The cidery is named for the thousands of apple trees that grow along the fence lines of rural America. As they only use wild and historical heritage varietals of local apples, you won't taste flavors like Fenceline's anywhere else in the world. You'll also find numerous other cideries throughout the state.
Find more ways to explore Colorado Liquid Arts™.
3. Marathons
If destination marathons are your idea of a dream vacation for one, you've come to the right state. The Colorado Marathon in May is a real treat, with a gentle downhill course that weaves alongside the Cache la Poudre River into the heart of Fort Collins. The race is known as one for setting personal records and as an "easier" Boston Marathon qualifier.
Put your legs to the test during June's Leadville Trail Marathon & Heavy Half, where you'll make your way past mining artifacts to the top of Mosquito Pass at 13,185 feet up. Though challenging, this race pays off with vistas of some of Colorado's tallest peaks and turquoise alpine lakes. And the town's residents line up for the last half mile of the course to cheer runners over the finish line, giving your legs a bit of extra pep. 
Or check off two bucket-list items at once by completing a marathon and summiting one of Colorado's fourteeners at the same time during the Pikes Peak Marathon in September. With 7,800 feet in elevation gain, this challenging trail climbs 13.3 miles to the top of America's Mountain, which caps out at 14,115 feet. Then it's back down the way you came to the finish line in downtown Manitou Springs.
Find more places to run in Colorado.
4. Unique Backcountry Experiences
Guided treks through the unrivaled beauty of Colorado's backcountry are a great way to forge new travel friendships. And who says those new pals can't be furry? The adorable gear-toters of Silverton-based Redwood Llamas carry your bags on three- to five-day trips where you'll cross the Continental Divide and camp in the shadows of 14,000-foot peaks.
Connect with Colorado Adventure Guides out of Silverthorne to experience the sheer joy of whitewater rafting. Get your thrills on outfitter-led paddling trips along the Upper Colorado and Blue rivers. Or join a guided group of runners to explore lesser-known, wildflower-lined trails that give you off-the-beaten-path looks at beautiful Rocky Mountain scenery. 
No gear? No problem. Boulder-headquartered Colorado Wilderness Rides and Guides will get you kitted out with all the technical equipment you need to explore Colorado. Trips range from two to seven days and take you past glistening, blue alpine lakes, through Rocky Mountain National Park and even to the summit of the park's Mount Alice.
5. Scenic Cycling, Driving & Rails
Cycling, driving and riding the rails are some of the best ways to take in Colorado's stunning vistas. Soak up the sights of our Western Slope at Colorado National Monument near Grand Junction. The 23-mile Rim Rock Drive dishes up eyefuls of otherworldly sandstone spires, hoodoos, canyons and blooming cactus for cyclists and drivers alike.
Wind your way up 12,095-foot Independence Pass via car or cycle part of the Top of the Rockies byway. You'll cross the Continental Divide and be treated to the soaring spectacles of jagged ranges as far as the eye can see. Stops along the way include Independence Ghost Town and Twin Lakes, which serve as natural reflecting pools for Mount Elbert (the state's tallest peak).
Colorado has 25 other scenic and historic byways packed with awe-inspiring views and historical sites that are perfect for leisurely drives or challenging pedal sessions. Options range from the Peak to Peak byway — traversing ghost towns, Victorian opera houses and casinos — and the San Juan Skyway, home to the famous Million Dollar Highway. (Bonus: Half of the byways are electric-vehicle-friendly!)
Or kick back and enjoy the sights on a classic Colorado train ride. The Cumbres & Toltec Scenic Railroad, which appeared in "Indiana Jones and the Last Crusade," chugs 64 miles through a gorge, over a mountain pass and through dense evergreen forests on its way from Antonito to Chama, New Mexico. Check their calendar for special summer trains that include outings to learn about wildflowers and geology, as well as brunch and dinner excursions.
Those seeking a luxe experience can depart from Denver and head west aboard the Rocky Mountaineer. This multi-day train trek takes you all the way to Moab, Utah, with an overnight stop in the hot-spring haven of Glenwood Springs. Watch high plains become mountains that fade into red-rock canyons and high desert as you sip Champagne in a glass-domed railcar.
Learn more about Colorado train rides.
6. Hiking & Wildlife Viewing
Get out and explore the outdoors year-round with a built-in group of buddies courtesy of Colorado Mountain Club. Outings have included fun activities like scenic hikes, rock-climbing excursions and photography walks. Another adventure group, Outdoor Afro, has two home bases in Colorado — Boulder and Denver — and offers group outings centered around fostering Black connections and leadership in nature.
Spanning Denver to Durango, the 567-mile Colorado Trail is broken up into 33 segments, many of which are great places for solo travelers to hike and look for wildlife without feeling alone. When hiking solo, always be prepared and let someone know where you are, when you're leaving and when you plan to be back.
Segment 5 of the Colorado Trail — Long Gulch to Kenosha Pass — rewards hikers with views of cloud shadows racing across valleys and the last bits of snow clinging to the mountaintops. Parts of the trail also dip through thick aspen groves, so you'll be treated to some cooling shade and the sound of their leaves rustling in high breezes.
In Segment 1's Waterton Canyon, you'll see mule deer, a rainbow of butterflies, herons, loons and even bighorn sheep. The trail hugs the South Platte River for the first 6 miles, and the combination of tumbling rapids, craggy canyon walls and bluebird skies make for a perfect summer day.
Wherever you go in the Centennial State, you're bound to spot some wildlife, whether it's a soaring hawk scouting for prairie dogs or pronghorns grazing in open fields.
Learn more about wildlife viewing.
Photo credit: (first image) Adobe Stock; (second image) Lisa Seaman