Experience Romantic Winter Fun in Leadville & Twin Lakes
There's plenty of romantic fun in winter in Leadville and Twin Lakes. Check out these ideas for snowy recreation, yurt adventures, sweet treats and flowers, plus cozy places to dine and stay — and even wedding-planning tips.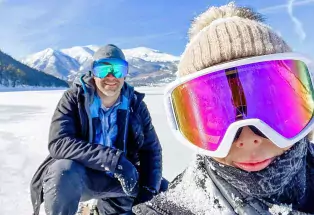 A snowshoe selfie near Leadville. Photo credit: Instagram/@freightleadville
Snowy Playtime together
Check out wonderful winter sports for two in Leadville and Twin Lakes:
YURT ADVENTURES TO REMEMBER
Dining
You and your honey can ski or snowshoe to a four-course dinner at Tennessee Pass Cookhouse. Trek 1 mile through a snowy forest, lit by moon and stars or sparkled by falling snow. You'll arrive at an off-grid candlelit yurt for your gourmet meal. Advance reservations are required.
For a daytime date on a weekend, ski or snowshoe to lunch at the Cookhouse, a delicious break from exploring the Tennessee Pass Nordic Center trails. Advance reservations are required here, too.
If the Cookhouse yurt is full, have a tasty lunch at the Nordic center, where you'll find soups and sandwiches, hot mulled cider and more. Sit by the toasty wood stove or on the sunny deck. No reservations are needed. You can rent skis, snowshoes or fat bikes for these adventures at the Nordic center.
Overnight
Stay the night in a Tennessee Pass luxury sleep yurt. Snuggle up with down comforters, wood stoves and room service.
For true privacy and adventure, plan a trek to the Leadville Backcountry Yurts. These remote, rustic yurts boast amazing, high-elevation views and are for experienced backcountry skiers and snowshoers only. Find winter backcountry safety tips
FLOWERS
Blooms are sure to bring a smile to your sweetheart's face. Check out Blue Vessel Florista for playful and romantic arrangements. 
SWEET TREATS
Relax with a cup of coffee and baked goods at City on a Hill, Zero Day Coffee or the Golden Burro Cafe, or delight in a Cuban coffee with raw sugar at Buchi Cafe Cubano. Spend a cozy afternoon or evening at Before & After Leadville for lighter fare and scrumptious desserts, along with inventive cocktails and mocktails.
Satisfy your sweet tooth with ice cream at D'Love Gourmet Coffee and Ice Cream. Or gift delicious cookies, cakes, fudge and more from Silver Llama Market & Eatery.
ROMANTIC DINNERS
Whether you prefer candlelit dinners, takeout pizza by the fire or spicy Mexican food, Leadville and Twin Lakes can deliver.
For ambiance, have drinks by the patio's firepit before dinner at Treeline Kitchen, or delight in perfectly seared steak at Quincy's. You'll feel right at home with hearty plates of deliciousness at the historical Twin Lakes Inn & Saloon. Explore a full list of Leadville and Twin Lakes restaurants for all your special meals.
WHERE TO STAY
Escape to comfortable lodgings made for snuggling. You'll have your choice of basecamps — whether it's one of the area's B&Bs, motels, hotels, hostels with private rooms, mountain cabins or vacation homes.
WEDDINGS
Looking for an enchanting place to tie the knot? Leadville and Twin Lakes offer the perfect blend of beauty and simplicity for a unique and wonderful day. The area's historical roots and stunning views make it a magical place to bring family and friends together for an unforgettable wedding event. 
Want more?
Host your wedding in Leadville
More about Leadville & Twin Lakes
Rent a mountain cabin or vacation home
Stay at one of Leadville's B&Bs, motels and hotels, or hostels with private rooms