Off-Road Jeep & ATV Adventures Near Buena Vista & Salida
Looking for thrills that take you to new heights? Off-road Jeep and ATV outings near Buena Vista and Salida are packed with technical terrain and wild settings that will have your heart pounding. Buckle up — and helmet up — and get ready to wind through sweet-smelling evergreen forests, ghost towns and mountain passes with stunning peak-strewn vistas. 
Off-roading near Buena Vista with a stunning mountain backdrop
Dirt biking on a wildflower-lined mountain trail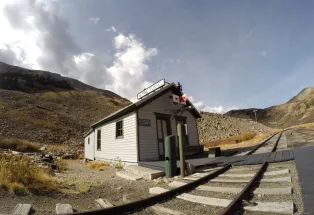 Restored historical train depot on Alpine Tunnel trail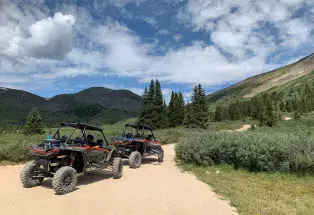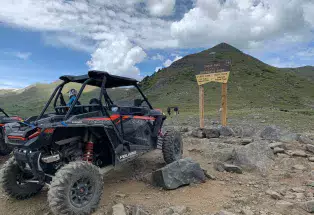 Tip: When hitting those mountain routes, remember Colorado's off-roading motto of "Stay the Trail." Learn how to protect the wilderness while making the most of your 4x4 experience >>
Top Places for Off-Roading & ATVing
Note: These trails don't keep themselves open. Learn about CORE, a local motorized action group that helps keep the OHV magic alive.
Marshall Pass & Poncha Creek
20.8-mile loop
View the trail map >>
 
South of Salida, rumble up more than 2,500 feet and across the Continental Divide. Along the way, you'll be flanked by views of rocky summits and sentinels of aspen groves — making fall drives an especially awesome experience. O'Haver Lake near your start and endpoint is the perfect spot to chill post-ride with some sandwiches.
Fourmile Travel Management Area
Nearly 200 miles of trails
View the trail map >>
 
Welcome to 100,000 gorgeous acres of off-road playground near Buena Vista, with numerous trails of varying difficulty levels. Motor past craggy rock formations — remnants of an ancient volcanic explosion — and top out at scenic overlooks that boast postcard-pretty shots of the Collegiate Peaks.
Chinaman Gulch & Carnage Canyon
7.9-mile loop
View the trail map >>
 
Bring your best spotter: If this short, yet extremely challenging, loop near Buena Vista were an ice-cream flavor, it would be Really Rocky Road. Put your rig to the test with obstacles like boulder climbs and steep descents and get your heart rate back to normal under shady evergreen thickets while soaking up the sights of snowcapped fourteeners.
Hancock Pass & Alpine Tunnel
20.4 miles point to point
View the trail map >>
 
On this moderate-to-hard trail near Nathrop, you'll pass saloon relics at Hancock historic site before straddling the Continental Divide at 12,140-foot Hancock Pass. Then rattle your bones traversing rock gardens and the high shelf road to Alpine Tunnel, where you can see the restored historical train depot. Prepare to be wowed by gorgeous colors — fall brings golds, while summer brings rainbows of wildflowers.
Mount Antero Trail 
15.2 miles out and back
View the trail map >>
 
Experienced drivers can make their way up, up, up the tightly winding switchbacks of this shelf road on the way to 14,276-foot Mount Antero's summit. Though you can't drive to the actual peak, you can get pretty darn close — within about a half mile, in fact. Technical 4x4 trails plus a short climb to the top of Colorado's 10th tallest mountain equals an unforgettable day.
St. Elmo to Tincup Pass
12.8 miles point to point
View the trail map >>
 
This moderate-to-difficult trail was specifically curated with OHVs in mind. Start in St. Elmo — Colorado's most well-preserved ghost town — before weaving your way up to Tincup, a semi-ghost town with a year-round population of about three and a rich gold-mining history. Known for its "insane" views, this route is the stuff ATV dreams are made of.
 
Know Before You Go: Prepare by reading up on individual routes so you're not caught off guard by seasonal closures or technical sections your rig might not handle without damage. Reviews are a great place to learn more about what type of clearance you'll need, tire-gauge requirements, whether stock vehicles will clear obstacles and so on.
Rentals & Tours
Had to leave the lifted Jeep at home? Airline wouldn't let you check your RZR? Looking for a group or guide to ride with? Find tours and rentals galore:
OHV Fall Color Tour, Buena Vista: Soak up the shocking reds, oranges and golds on this annual four-day, self-guided group OHV tour. In addition to enjoying brazenly colorful mountain vistas, you can visit mining camps and ghost towns or soak in local hot springs.
Rocky Mountain Jeep Rentals, Salida: Rent stock or modified Jeeps or book half- and full-day tours (including customizable outings).
All Season Adventures, Inc., Villa Grove: Climb onto a powerful double- or single-rider ATV or book guided tours.
Rocky Mountain Adventure Rentals, Buena Vista: Find almost everything off-road, from side-by-sides to dirt bikes. Or book tours of Buena Vista and St. Elmo.
Collegiate Peaks Off-Road Rentals, Buena Vista: Hook up with this outfitter for Jeep and RZR rentals. 
Want more? 
Check out nearby whitewater rafting experiences >>
 
Find the best spots for snowmobiling in the area >>
 
Learn more about Salida & Buena Vista >>