What's New Around Leadville & Twin Lakes
With many new businesses opening in Leadville and Twin Lakes, local entrepreneurs are showing their grit — and the list continues to grow. See what's new in town since your last visit, and you're sure to get a warm welcome.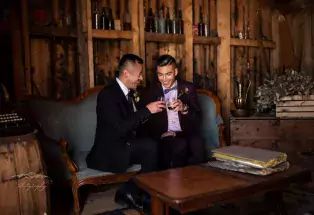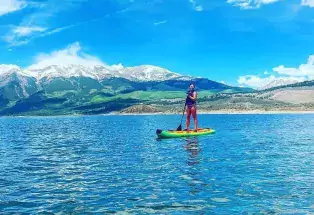 Play
707 N. Poplar St., Leadville, laundromat parking lot, 719-398-4554
Rent an e-bike in North America's highest-elevation city. They'll help map your ride around Leadville's historic Mineral Belt Trail or out to the glistening Turquoise Lake.
1 Harrison Ave., Leadville
Head off road year-round: Rent a UTV, dirt bike or e-bike in warm weather. When snow arrives, check out a UTV on snow tracks or a snow bike for the ultimate fun.
728 Front St., Leadville
If you need doggie daycare or boarding, a dog wash or supplies during your stay, check out this new store for pups and the people who love them.
Join a day hike or multi-day all-inclusive trip based at the Governor's Mansion in Leadville with experienced and highly trained guides.
1 mile east of Twin Lakes village at the Red Rooster fishing site (by the White Star Campground)
New owners are now offering a pontoon-boat cruise across Twin Lakes. When you arrive on the opposite shore, you can walk around the former Interlaken Resort.
35 County Road 26, Twin Lakes
Rent stand-up paddleboards and mountain bikes in the heart of Twin Lakes village to explore Colorado's majestic high country and large sparkling lakes. 
EAT & DRINK
612 Harrison Ave., Leadville
Sip inventive cocktails, mocktails and carefully chosen beer, wine and coffee drinks. Delicious light fare and scrumptious desserts are on tap as well, all in a historical building in the heart of downtown.
710 Harrison Ave., Leadville
After an old-timey restoration that brought the cafe back to its 1950s heyday, the Golden Burro re-opened with an entirely plant-based menu and a focus on a deliciously good breakfast.
140 E. Sixth St., Leadville
Head to Moe's for mouth-watering smoked pork and turkey breast served with tangy sauces and savory sides.
101 Harrison Ave., Leadville
Need a cold brew or a hot sammie? Come try Leadville's newest brewpub for Leadville Lager, Camp Hale Pale Ale and seasonal brews.
102 Mountain View Dr., Leadville
A new style of Mexican food is cooking in the space previously occupied by Gringo's on Leadville's north end. Savor scrumptious tacos, panchitos, burros, tortas, quesadillas, tacos dorado, hamburgers and more.
SHOP
460 Harrison Ave., Leadville
Visit this inspired walk-in floral shop for creative arrangements for the rebellious, romantic and spiritual at heart. Planning an event? Offerings include event design and styling, plus rental space for weddings and other intimate gatherings.
324 Harrison Ave., Leadville
Find wearables, gear plus home and wellness goods from small businesses located across Colorado. All goods are from artisans and makers committed to sustainably sourced or recycled inputs and reflect the state's outdoorsy vibe.
108 W. Sixth St., Leadville
If you think bigger isn't always better — and that the little (wild) things in life are often the richest — then check out the new Leadville adventure brand of apparel, guidebooks, photography and more.
603 Harrison Ave., Leadville
Stop in for advice on where to go and what to see in Leadville and Twin Lakes. Pick up travel must-haves for this trip and ones to come. You'll also find souvenirs, Colorado history books and antiques from Two Dog Travel's worldwide treks.
STAY
700 Harrison Ave., Leadville
Under new ownership, the hotel is currently undergoing renovations to restore it to its former glory. The restaurant, Mineral, is expected to open by the end of the year, with the lobby, bar, cafe and hotel rooms soon to follow.
1 Harrison Ave, Leadville
Now under new ownership and with newly renovated rooms, Mountain Peaks Motel is located in downtown Leadville. It's located within walking distance to all major shops, museums and restaurants, and it offers a vast assortment of satellite TV channels in every room.
207 Elm St., Leadville
Formerly The Alps Motel, the Old Tale Inn now has new owners and newly renovated rooms. This conveniently located motel offers a comfortable, modern stay with quick access to year-round attractions.
320 E. Ninth St., Leadville
Rest your weary head in a brand-new uber-luxe cabin at FREIGHT Leadville. Each of these well-appointed cabins is named for a historic Leadville working lady to honor these unsung Leadville residents. While you're there, be sure to check out the Whiskey Lime Lounge, an eye-spy room full of the antiques salvaged from FREIGHT's restoration.
Want more?
Reasons why locals love Leadville >>
More about Leadville & Twin Lakes >>
Refuel with this Leadville restaurant list >>