Best Biking Spots in Buena Vista & Salida
Buena Vista and Salida deliver big as year-round biking destinations. You'll find many two-wheeled ways to see the Collegiate Peaks region, and sometimes straight from town! Do it on a ready-to-rumble road bike, mountain bike or fat bike depending on your preference — and the elements.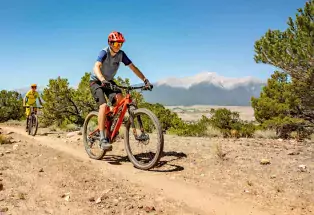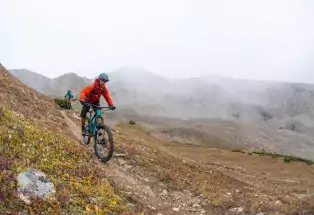 Mountain Biking
Put your full-suspension setup to good use on one (or all) of these sweet MTB trails.
Find more places to mountain bike >>
 
Road Biking
Race two wheels along these winding roadways for the ultimate scenic reward.
Find more places to road bike >> 
Fat Biking
Try out a fat bike, whose wheels are like monster-truck tires, to get up gravel, snow, ice, dirt … the list goes on. Here are places to test your bike's (and your own) mettle.
Cottonwood Pass Road closes seasonally to through traffic, generally November through May. This means it's open to multiuse recreation in winter, like fat biking, snowmobiling and Nordic skiing. You'll climb through the trees for peak and Ptarmigan Creek views. Pro tip: Snowmobile traffic not your thing? Bike midweek for more tranquility.
Ride the nearly 27-mile-long dirt road from St. Elmo to Tin Cup, accessed 16 miles from Salida by car. This old Jeep road, rated intermediate due to rocks and loose gravel, connects two historical mining ghost towns. Pro tip: Organize a pickup from Tin Cup, which can be accessed from Cottonwood Pass.
Take a beginner-friendly fat-bike tour from St. Elmo to the Alpine Tunnel. You'll rumble up 18 miles of dirt road and doubletrack that follow retired railroad tracks from the ghost town to the collapsed Alpine Tunnel. Pro tip: Watch for interpretive signs that explain the area's colorful history.
Find more places to fat bike >> 
Guided Bike Tours
Rather go with a guide? Hook up with outfitters like Rocky Mountain Outdoor Center, Dvorak Expeditions, Absolute Bikes Adventures or High Valley Bike Shuttle for expert guidance and support on your bike adventure.
Where To Rent a Bike
Want to Learn More?
Get the free visitors guide >>
Learn more about Salida & Buena Vista >>