Explore Arts & Culture in Buena Vista & Salida
A kaleidoscope of colorful creatives has graced the towns of Buena Vista and Salida, crafting up award-winning and eclectic pieces for everyone in your group.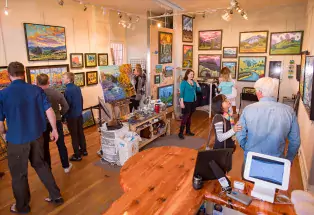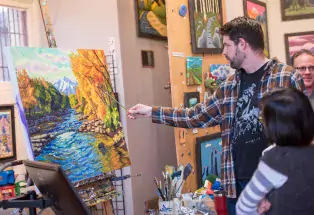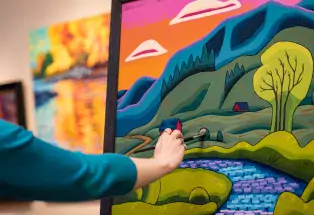 Downtown Salida has been named a Certified Colorado Creative District, with historical buildings turned into working studios and galleries — many of which are interactive. Dip your toes into artistry at the annual events and festivals. After all, travel-and-arts writer John Villani designated Salida as "one of the 100 best small art towns in America." And though not an official creative district — yet — Buena Vista is also brimming with artistic spunk.
Public Art
As soon as you arrive in Salida or Buena Vista, you'll notice the sculptures and murals that decorate the streets, parks and businesses. The colorful wall art, ceramic-tile outdoor living area in South Main and the intricately constructed bridges in downtown Salida are ideal for an Instagram post. Annual outdoor art exhibits change at the Strawn/Grether Sculpture Garden in Salida — think colorful metal designs, wavy-collage mirrors and rock furniture. 
Art Galleries
With more than 25 galleries, boutiques and shops centered around creativity, these two towns are sanctuaries for art. Snap up clay-pot ollas for your garden, stained-glass ornaments for your tree, unique jewelry for your upcoming night out on the town, vibrant paintings for your family room and conversation-starter sculptures for your next dinner party. Over at Salida's Museum of Authenticity, exhibits are fashioned to inspire a visitor's adventures through life. Past shows have included weathered piano parts, barrel staves and Native American art.
Art Events
Being a mountain haven of artists means there's no shortage of events in Salida. Each June, the city's Art Walk showcases visual and performing arts. Walk through temporary galleries sponsored by local makers and businesses and see a performance by Shakespeare in the Park all in one colorful weekend. Plus, on second Thursday of each month, the Salida Council for the Arts presents a Creative Mixer for art-minded people to come together and be inspired by artful energy.   
Entertainment
Buena Vista and Salida feature year-round calendars chock-full of music concerts and award-winning performing arts. At the Salida Rotary Amphitheater, you can catch Bluegrass on the Arkansas each May. The festival has been going on for 16 years and while attending you'll get to listen to the calming tunes flow through the leaves for free. At The LAWN in Buena Vista, South Main's Town Square is turned into an open-air, live-music venue meant for families. Bring your lawn chairs and enjoy a summer concert in this beautiful little hamlet. Meanwhile, the SteamPlant Event Center in Salida hosts hundreds of events each year, including the annual Jazz Fest in August. Also at the center you can also take a class learning to draw or check out an award-winning indie film. 
Want more?
Plan your next trip to Chaffee County
Book your stay in Buena Vista and Salida