Fall Color Camper Van Road Trips: Part 2, Mountains & Mesas
Everyone wants to see Colorado's stunning autumn golds and reds, but there's no way to predict when and where the leaves will be showing off their stuff. Instead of chancing it, make the most of your leaf-peeping adventure by renting a camper van.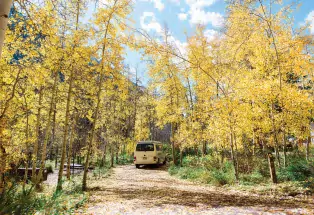 Click here to read Part 1: Drives Near Denver.
Being mobile gives you the flexibility to cruise our scenic and historic byways in search of fall colors, exploring cool cities and natural areas along the way.
Reserve Your Ride
There are plenty of local companies that can get you geared up to embrace nomadic freedom without having to rough it thanks to solar-powered features, queen-sized beds and more. Peruse your options at A-Lodge Adventure Vans in Boulder, Aspen Custom Vans in Aspen, Dave & Matt Vans in Gypsum, and Rocky Mountain Campervans or Native Campervans, both in Denver.
Plan Your Route
Peak viewing times are hard to predict, but the first half of September is usually a safe bet. Resources like the interactive maps and webcams on COTrip.org or the Colorado Parks & Wildlife park finder page can help you track down those striking colors.
You know those nature photographs hanging in galleries, showcasing seemingly endless stretches of golden aspen and crystalline lakes? A good number of them are taken by professional photographers who trek to Grand Mesa in autumn. Here, a dazzling array of reds, yellows and golds will flash past your van's windows as you drive on the world's largest flat-topped mountain. Pull over to snap your own pics of aspen-blanketed valleys, panoramas of the distinctive Sneffels Range and lush landscapes dotted by some 300 lakes.
Take a break from the road to admire the views at Land's End Overlook south of Mesa and Palisade, which sits at the rim of the mesa at a height of 6,000 feet and provides life-affirming views of pristine national forest and the Grand Valley. Or, fish, picnic or canoe on one of 300-plus Grand Mesa lakes, from the peacefully remote Bull Creek Basin (accessed only on foot, horse or ATV) to the RV-park-friendly Ward, Alexander, Hotel Twin and Baron lakes.
To really stretch those legs, rent a bike from Palisade Cycle & Shuttle in Palisade and enjoy sweeping mountain vistas punctuated by bright orchards and the vineyards of wine country. As you bike, stop to sample high-elevation vintages at some of the town's more than 30 wineries.
Where to Camp: Ward Lake Campground, Cedaredge or Weir & Johnson Campground, Collbran
Break from the Road: Maison de Terre B&B, Cedaredge or Spoke and Vine Motel, Palisade
The San Juan Mountains are some of the state's most legendary for fall color. This byway takes you through sky-high terrain, history-rich towns and popular destinations like Durango and Telluride. En route, you'll travel on canyon-clinging stretches of what's called The Million Dollar Highway (either because it cost so much to build or for the amount of gold that remained in the roadway's fill) and through magnificent box canyons before looping down to the high-desert Southwest landscapes near Cortez and Mancos. 
All along the Skyway are not-to-miss mountain towns. Enjoy craft beers and shopping in Durango, gold-mine tours in Silverton, hot-spring soaks in Ouray, and Telluride's boutique-lined main street. In Telluride, hike to waterfall views and then ease your tired travel muscles at The Peaks Resort & Spa with hot-stone treatments and their Travelers Recovery Facial.
Mesa Verde National Park is situated off the Skyway and is a must-visit destination. Plan sufficient time for up-close exploration of some of the 600 cliff dwellings of the Ancestral Puebloan people and soak in all the history and culture the park has to offer. 
Where to Camp: Thistledown Campground, Ouray or Matterhorn Campground, Telluride (closes late Sept.)
Break from the Road: St. Elmo Hotel, Ouray or Mesa Verde Motel, Mancos
From the twin summits of Mount Sopris to the plunging depths of the Black Canyon of the Gunnison near Montrose and from rolling farmland to jagged marble cliffs, this lasso-shaped route is notable for its sheer variety of terrain. Between each landmark are quaking aspen groves as far as the eye can see, framed by towering mountain ridges, sleepy villages and bustling mountain towns.
At Black Canyon of the Gunnison National Park, peer down 2,700 feet to the Gunnison River, which has carved some of the steepest canyon landscape in the U.S. Here you can rock climb, hike, fish, take a scenic drive and snap photos of the Painted Wall, a sheer cliff that reveals colorful rock veins.
Nearby Crested Butte has stolen the heart of many a visitor with its chill vibe, excellent eateries and colorful Victorian downtown. Pick up some road reads at Townie Books, then grab souvenirs for the folks back home at the town's many eclectic gift shops.
Don't miss the chance to buy a basket of farm-fresh cherries or a bushel of nectarines from a farm stand near Paonia and Hotchkiss, and seek out farm-to-table dining in these bucolic towns.
Where to Camp: Curecanti National Recreation Area, Gunnison or Redstone Campground, Carbondale
Break from the Road: Canyon Creek Bed & Breakfast, Montrose or Elevation Hotel & Spa, Crested Butte
Van Life Tips
Freecampsites.net is helpful for finding campsites along the way, as is Recreation.gov.
Snow is possible even in early fall at higher elevations, so prepare accordingly.
Responsible vanlifing means following Care for Colorado Leave No Trace Principles.
Charge your devices and yourself at the many charming mountain-town coffee shops you'll inevitably come across. Portable power banks are handy, too.
Don't plan too much. Adventures are bound to happen when you're on a road trip! 
Want more?
Find a wealth of Colorado road-trip itineraries >>
Discover more ways to enjoy our fall colors >>