Sky-High Adventures With Buena Vista & Salida Ziplines & Aerial Parks
Salida and Buena Vista are natural playgrounds rich with thick evergreen forests, rugged, river-carved canyons and an abundance of stellar mountain views. Couple beauty and thrills as you see this region from a unique vantage point while soaring down zipline routes and puzzling your way to the finish lines of aerial obstacle courses.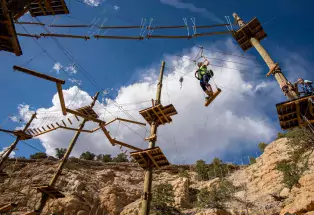 Aerial adventures in Salida and Buena Vista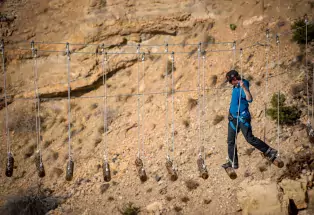 Crossing a suspended bridge at an aerial park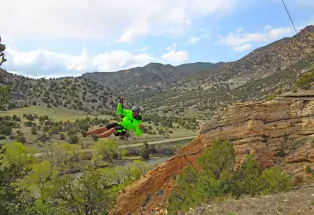 Flying through the air at Salida's Captain Zipline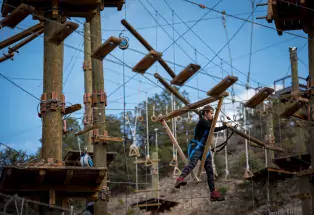 Puzzling through aerial park challenges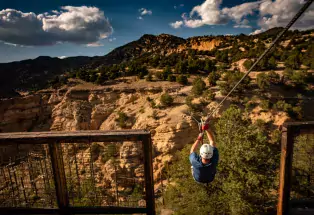 Zipping over canyons at Captain Zipline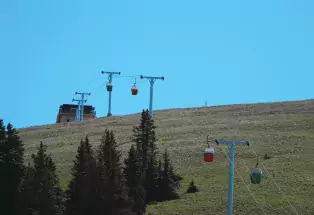 Leisurely rides to stunning views on the Monarch Crest Tramway
AVA Zipline & Aerial Tours
Adventure awaits just north of Buena Vista in the town of Granite on AVA's mountaintop zipline. On this fully guided tour, you'll glide through the crisp air of the Collegiate Peaks region on multiple ziplines and traverse other fun features like suspended bridges. There's even a dual-race zip where you can challenge a friend to the finish. As you whizz and whoop, you'll be treated to the sights of hulking snowcapped peaks and jagged canyons. 
Harness up and take on the via ferrata, a climbing route made up of iron ladders and cables, perfect for those who love extreme experiences. Along with traversing the cliffside, you'll also rappel off a bridge and, of course, speed down some ziplines. 
If that's still not enough action for you, just add water — and book a package trip that gets you up close and personal with the canyon walls of the Arkansas River Valley — by combining a whitewater-rafting excursion with ziplining or the via ferrata.
Noah's Ark Browns Canyon Adventure Park
Kids and adults alike will revel in the wild feats at Browns Canyon Adventure Park in Buena Vista. Four unique obstacle courses bring the action with more than 60 elements like ziplines, rope swings, wobbly log bridges, tightropes and net ladders. Clip into your belay and dash through the air as you figure out the best way to move across (or up) these exhilarating features — angling for a better vantage point from which to admire the area's famous 14,000-foot summits and dense streaks of pines. 
Level up this experience with the park's two high-adrenaline challenges: First up is the Big Drop Swing, where you'll be suspended 40 feet in the air before suddenly plummeting toward the tumbling Arkansas River. Then take the Leap of Faith and jump from a 25-foot pole to grab a trapeze bar before being slowly lowered to the ground.
For even more of a rush, the Park & Paddle bundles a day at the adventure park with a whitewater-rafting trip. Or take things down a notch with the Park & Soak, which couples park fun with hot-springs relaxation at Mount Princeton Hot Springs Resort. 
Captain Zipline
Adrenaline fanatics wanting to test their limits need look no further than Salida's Captain Zipline. Start with the Canyon Challenge for nine unique aerial courses made up of 120-plus mettle-testing elements — from balance beams and tunnels to cargo nets and swinging bridges — with difficulty levels for everyone in your crew. 
Your heart will jackrabbit as you rocket across gaping canyons on the Lost Canyon Zipline tour, made up of six ziplines of varying heights. As you hike the stunning landscape between zipping platforms, local guides will keep you entertained with info about the area's history, ecology and geology. Ramp the experience up on the guided via ferrata as you tackle four challenging routes along limestone cliff walls, topping out at 150 feet. Expect even more sensational views with this outing.
Monarch Crest Scenic Tramway 
Though not a zipline or aerial park, Monarch Crest Scenic Tramway is an excellent way to get up in the alpine air for unparalleled views of the Collegiate Peaks and the Continental Divide … especially if you need a break from all the thrill-seeking. Set atop Monarch Pass at 11,312 feet, Monarch Crest is the oldest operating tramway in the state. A leisurely scenic ride carries you up to 12,000 feet for wow-inducing vistas of Colorado's mountains dappled with evergreens reaching toward the sky. On a clear day, you might even glimpse Pikes Peak way out east.
Want more? 
Explore whitewater parks in Buena Vista & Salida
Warm up with winter adrenaline on a snowmobile excursion