Trout Fishing in Buena Vista & Salida
There are dozens of reasons the Buena Vista and Salida area has some of the best trout fishing in the state — not the least of which are the jaw-dropping Collegiate Peaks views that dominate any trip to the water.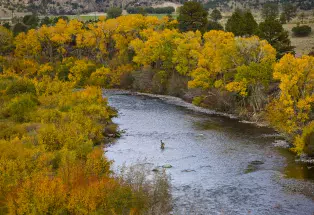 Cast for trout in the area's Gold Medal waters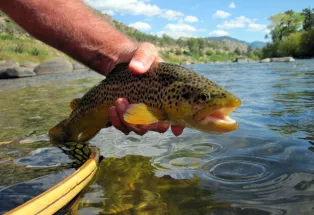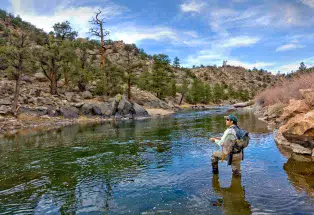 A glorious fishing day in Chaffee County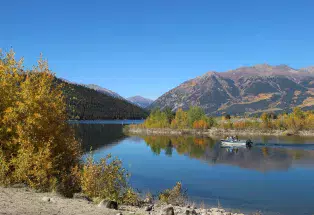 Buena Vista and Salida's freshwater rivers and streams
If you need more than views, consider that there are 102 miles of Gold Medal waters along this stretch of the Arkansas River — the longest stretch in the state — and 150 total miles for every type of angler to play on. Meandering through high-desert canyons, hay meadows and granite boulder gardens, the diversity of environments adds choices and variety to any fishing vacation.
Extensive public access, mild year-round weather, water-quality improvements and fishery-flow management all combine for an epic Colorado fishing experience that could just net you that 14-inch trophy you've been dreaming about.
So Many Options
There's also a choose-your-own adventure menu of options to determine the kind of fishing trip you and your crew will take:
Several outfitters, including ArkAnglers, Salida Anglers, The Next Eddy, UpRiver and Dvorak Expeditions will customize a trip for your group, stock you up with any gear and lessons you require, and guide you to where the water is clear, the flow is optimal, and rainbow, brown, brook and cutthroat trout are biting on any given day.
Float or wade, fly or spin, guided or on your own — you and your tackle are sure to find a favorite fishing hole. And it's not just the Arkansas itself; the Upper Arkansas River Valley also offers easy access to dozens of high-altitude lakes and streams, which can be reached by a scenic hike or 4x4 drive, as well as regularly stocked lakes and ponds that can be fished from the shore or a boat for a perfect family-fishing excursion. Several lakes are even prime for ice fishing when the winter conditions are right.
When the day's catch has been caught, two vibrant mountain towns await, both with excellent dining, lodging, festivals, hot springs and too many other high points of outdoor recreation to name to round out a solid fishing vacation.
Know Before You Go
Whether you head out with a guide or on your own, you'll need a fishing license for anyone 18 or older in your group. To protect fish populations, and keep this area special for generations to come, anglers are required to follow state- and waterway-specific rules. Always check for fishing-regulation updates prior to each fishing trip.
One question to ask as you reel them in: Do I really need to keep any fish caught within the legal regulations? Smart catch-and-release techniques play a major role in sustainable eco-systems, when fish are released healthy and can continue to reproduce after their brief encounter with your rod and reel.
When in doubt, the outfitters above or any fly shop in the area can set you straight — the more you know about fish species, habitats, fishing regulations and proper fish handling, the better you can do your part as a positive member of the local angling community.
Want More?
Learn more about fishing on the Arkansas River and beyond near Buena Vista & Salida
Check out  Arkansas River whitewater parks in Salida and Buena Vista