Guide to Cross-Country Skiing & Snowshoeing Near Montrose
The Montrose area offers groomed and ungroomed trails within short distances of town. These top western Colorado winter spots will get you trekking in no time.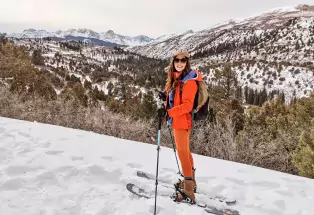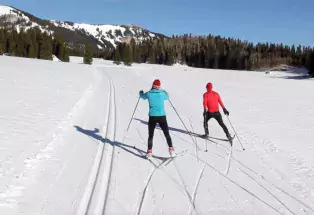 Grand Mesa National Forest
If you haven't ventured to the world's largest flat-top mountain for a snowy adventure, we suggest grabbing your skis or snowshoes and going as soon as possible!
The Grand Mesa Nordic Council's three trails total around 30 miles of touring and are known as some of the best cross-country-skiing trails in the state.
Skyway & County Line
These trailheads are about 2 miles apart on Highway 65, located on the Grand Mesa. Between the two, you have the opportunity to experience 19 miles of high-quality groomed skate-classic Nordic ski trails. Skyway and County Line are easy to moderate with a few gentle climbs, but it's good to keep in mind that at over 10,000 feet of elevation, you may be feeling the cardio burn at times. Overall, these routes are great for beginners and advanced skiers and snowshoers alike. Two overlooks offer 100-mile views of the San Juan Mountains to the south and Battlements to the north. If you're planning on bringing your dog, County Line is the place to go (just make sure you clean up after your pal). Skyway, however, is a no-dog zone, so please be respectful.
Ward Trailhead
A few miles away from the Skyway and County Line trailheads, Ward offers 11 miles of marked and signed trails. This area is known to be steeper, with a 500-foot elevation gain from the trailhead to Baron Lake Drive. With trails through high timber, frozen lakes, open areas and an overlook of the San Juans, it's a trek for the adventurous. This cross-country ski trail is groomed from the beginning until Baron Lake Drive near the visitor center, and provides easy access to the touring trails and to backcountry-skiing terrain. Dogs are welcome at Ward, but remember to clean up after your dog on whatever trail you may be using — always pack everything out!
Black Canyon of the Gunnison National Park
If you thought that Black Canyon of the Gunnison National Park was just for summer adventuring, you'll want to keep reading. Come winter, one of Colorado's most treasured natural wonders is covered in fresh blankets of snow and sets quite the scene as you kick and glide your way along the canyon rim. In the winter, the 4-mile South Rim Road is buried in snow and isn't plowed, which allows cross-country skiers and snowshoers to use the road as an out-and-back trail. During your trek, you'll get up-close views of the canyon (and if you go far enough, Pulpit Rock Overlook). 
If snowshoeing is your mode of transport, there's plenty of adventure for you, too! You can cozy up to the edge of the canyon even more than you can on skis, but remember to take precautions — and if you haven't been out on snow equipment before, do your homework ahead of time and get used to your gear. Oak Flat Loop (takes around 1.5 hours) and Rim Rock Trail (about 1 hour) are great options for snowshoeing, with views that are second to none.
For the sake of local wildlife, please leave dogs at home.
Dave Wood Winter Recreation Area
On the gentle slopes of the Uncompahgre Plateau just 15 minutes south of Montrose is Dave Wood Winter Recreation Area. Approximately 4.4 miles worth of cross-country ski and snowshoe trails ranging from 8,000–8,400 feet in elevation meander through this area, which is dominated by aspen and ponderosa pine trees interspersed with thick pockets of gamble oak and sagebrush in the lower elevations. The trails are not groomed, but marked by level of difficulty from Elana Miles Area and Branson Loop (easiest), Happy Hollow and Walker Area (more difficult) to Plantation Alley (most difficult).
A 4x4 vehicle is recommended if you're headed to the trailhead; Dave Wood Road is plowed to the parking area. From Montrose, you'll want to take County Road 15 to the Forest Service boundary. The trailhead is on the west side of the road at the boundary. Dogs are allowed at this recreation area, but again, please look after and pick up after your companion.
Ouray Area
If you're looking for a classic Nordic ski loop or a high-alpine adventure, you may consider heading to Montrose's neighbor to the south.
North Corridor
This scenic, 2-mile loop along the Uncompahgre River is perfect if you plan on soaking in the hot springs right after your skiing or snowshoeing workout. You can access the loop from the Hot Springs Pool parking lot, Chatauqua Lane (across from Rotary Park) or Uncompahgre Street. Dogs are allowed on leash on the loop.
Ironton Park
The views don't get much better than this. Nine miles south of Ouray, you'll wind around a narrow and steep road to get to the trails, but have no fear — it will all be worth it! With beginner and intermediate cross-country ski trails, you'll find both groomed and ungroomed areas. If you follow more of the difficult blue trails, you'll be trekking to mining claims on the mountainsides. Take the groomed trails, and you'll be routed through the historic ghost town of Ironton, where several buildings remain. You're able to go inside these buildings, but make sure you're careful — the stairways and floorboards are broken and are questionable in terms of stability.
Snowshoe & Cross-Country Ski Rentals
If you're looking for snow gear and cross-country ski rentals in Montrose, check out the following spots:
970 Sports Rewind 
The Great Outdoors Company 
Want more?
Learn more about winter activities in Montrose >>
A version of this article appears on visitmontrose.com.