Dive Into Fort Collins' Art, Music, Theater & Museum Scene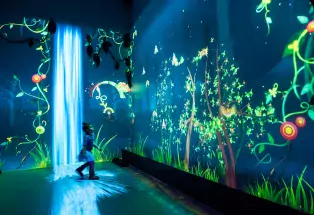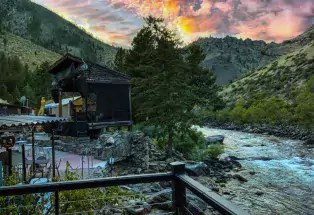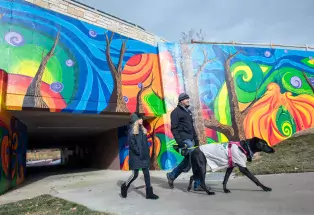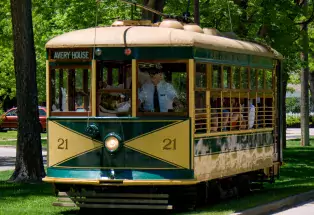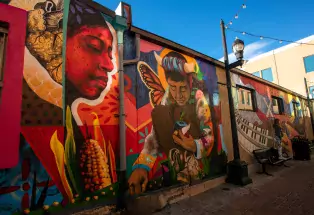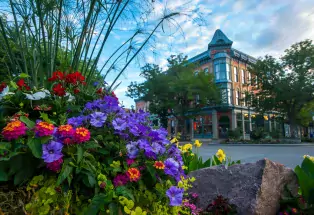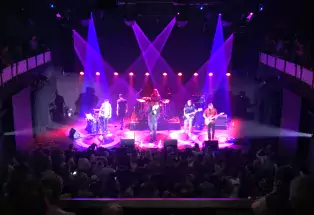 Let us usher you through a handful of the unique and amazing experiences you can enjoy in Fort Collins, from rocking outdoor concerts at a riverside venue to a museum that serves pizza and spotlights memorabilia from the 1980s.
Art in Public Places
As you walk or cycle across the city, expect to be delighted with bursts of color and shapes everywhere you turn. Fort Collins has been promoting art in their public places for more than 25 years, adding to the city's charm and personality.
You'll find interactive murals in downtown alleyways, while the sun bounces off glistening metallic sculptures. Vibrantly painted pianos dot sidewalks and plazas throughout the town, waiting for you to play a tune. These instruments are lovingly decorated by local artists each year, then distributed throughout Fort Collins. Even the electrical-transformer boxes are awash in brightly hued scenes depicting the city's nature, culture and sense of community, so be on the lookout for art wherever you go!
Find a map of public artworks in Fort Collins
Vibrant Venues & Theaters
Whether you're after thought-provoking pieces or lively entertainment, the many varied venues of Fort Collins are sure to scratch any creative itches.
Where else can you wander a sculpture garden to find dancers gracefully performing around every corner? The city's cultural arts center hosts ballet, comedy, theater and gallery shows — indoors and out.
The University Center for the Arts boasts more than 250 annual performances and exhibits, focusing on topics ranging from social justice to symbolism in textiles.
New releases, classic faves (think "Ghostbusters" and "Pretty in Pink") and live music are the name of the game at this eclectic cinema that takes pride in being a community hub.
Lighting up the night since 1968, this drive-in theater serves up modern films in a retro setting — all with mountain views. Don't miss the concessions stand stocked with burgers, fries, brats, nachos and more.
FoCo locals warm up headliners with acts that'll keep you laughing all night long. Check out the monthly burlesque shows on the first Friday of each month.
This iconic riverfront venue —nicknamed "the Mish"— is the perfect combo of live music and Colorado nature. Jam to the sounds of local and nationally known artists in the serene setting of the Cache la Poudre Canyon.
Touted for amazing acoustics, stellar lighting, this intimate — yet spacious — hotspot hosts big-name acts like Dweezil Zappa and They Might Be Giants.
The cozy listening-room vibe is a major part of this music venue's appeal. Shows pair Colorado artists with nationally known acts in a historical building that was once an actual armory.
One-of-a-Kind Museums
The wide variety of cultural treasure chests in Fort Collins will make you think twice about what a museum experience should be.
At the Music & Sound Lab exhibit, inspire your creative side as you explore the physics of sound and learn about the history of music in FoCo. Play instruments — including the sci-fi-sounding theremin — and explore a wealth of other engaging exhibits and programs.
You're always in for a magical treat with the rotating shows of this charismatically quaint museum. Past displays have included eating utensils from around the world, Chinese folk-art paintings and drawings of mythical beasts by children from 15 countries.
Take in collections of Renaissance art, CSU-student-curated exhibitions of modern and contemporary pieces, and an array of wood carvings, ceramics, bead- and metalwork from African cultures. MFA student-thesis shows and a variety of other programs keep things interesting.
With an ever-revolving docket of shows and interactive installations, this museum is constantly upping the art ante. Past offerings have touched on environmental and cultural awareness, featured the works of Dalí and Picasso, and explored the awkwardness of family photos.
Chow down on themed pies — like the barbecue-chicken-topped Yippie Ki Yay Mother Clucker! and the spicy Milli Vanilli Green Chili — as you marvel at thousands of pieces of 80s memorabilia. You'll dine with the likes of Care Bears, Molly Ringwald and Han Solo (frozen in carbonite, of course).
Discover the history and cultural influences of Hispanic peoples in Fort Collins and northern Colorado as you explore this adobe-home museum. Open every third Saturday, the museum offers insights into the community life and working conditions of Hispanics who labored in the sugar-beet industry in the 20th century.
Fort Collins Festivals & Events
Dive headfirst into Fort Collins' art and cultural scene at a colorful array of year-round celebrations and events. You'll find a happening to suit every style, ranging from peach and film festivals to cycling and running races ... and so much more. Find Fort Collins events
Want More?
Request your free Fort Collins Visitors Guide
Learn more about arts and entertainment in Fort Collins