Find Year-Round Outdoorsy Things to Do in Fort Collins
Thinking of curling up by a nice warm fire this winter, hot cocoa in hand? Think again! In Fort Collins, outdoor activities are a year-long endeavor. Grab your jacket (and sunblock) and take a look at these ideas to help you explore the great outdoors — no matter the season.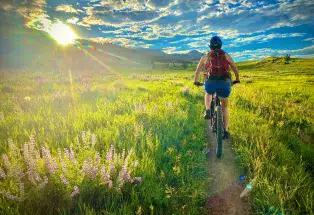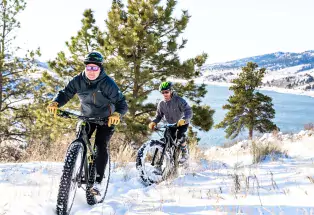 Few cities offer the same level of unfettered year-round access to ponds, lakes and rivers within — and just outside — their city limits as Fort Collins. Horsetooth Reservoir, a popular spot for weekend warriors and family retreats, is also perfect for anglers. Stake a claim on the rocky shores and reel in walleye, smallmouth bass, white bass or yellow perch. Sheldon Lake at City Park, just a five-minute drive from Old Town, is easily accessible and provides a great spot for people who don't want to leave the comforts of the city. In the winter months, the lake is a bustling hub for ice fishers (and ice skaters, too). 
If you want to make the most of your time, schedule a fishing trip with Northern Colorado Fishing Outfitters. Master the art of fishing with guided trips to Boyd Lake, Dowdy Lake State Wildlife Area and beyond. You'll learn boat fishing, river and night fishing, ice fishing and everything in between.
Hop on a Bike
It's hard to believe that just a few decades ago, biking was a seasonal paved-road activity. Now, thanks to fat bikes, you'll find Fort Collins locals bundled up, cycling down the street or on one of the maintained trails around the city year-round. Fat biking makes use of oversized tires to maintain stability and traction on snow and sand. Rent one from The Gearage and make your way to the singletrack at Lory State Park for a memorable winter adventure.
During mountain-biking season, you'll find your trail options expand significantly. The area around Arthur's Rock yields terrain that's suitable for beginners and seasoned veterans alike. When you've got an itch for fall leaf peeping, Lady Moon Trailhead in Red Feather Lakes supplies splendid views and moderate terrain. If you want to hit all the best scenic landmarks and hone your riding skills, book a ride with Front Range Ride Guides, offering year-round half-day, full-day and multi-day tours.
Try Cross-Country Skiing
Cross-country skiing is an activity that all Fort Collins visitors should embrace. It's an affordable pastime, a great form of exercise and works muscle groups that don't normally get worked. Since the city is already relatively flat in many areas, it's the perfect place to carve a trail and have some fun. The perimeter of City Park is a popular spot for cross-country skiing enthusiasts, and they'll likely already have a path made for you once you get there. Cross-country skis are available for rent from Outpost Sunsport on Harmony Road. 
When there's no snow to play in, the Poudre and Spring Creek trails are the optimal tracks for roller skiing, roller skating and other recreational activities. Combined, there are more than 30 miles of trail to explore some of the best views Fort Collins has to offer. 
There are 52 natural areas in Fort Collins, and their 114 miles of trails create the ideal environment for year-round activities like hiking, birding, picnicking and more. In 2015, bison were reintroduced to Soapstone Prairie Natural Area. The 19,000 acres of rolling landscape make for an exemplary viewing area for these majestic animals from March to November. Just southwest of Horsetooth Reservoir, Bobcat Ridge Natural Area's lush green valleys provide idyllic backdrops for wildlife viewing including elk, wild turkey, deer and more. From June to October, visitors can enjoy free educational events like Bison-Archaeology Connection and A Hike Through the Ages. View a full list of upcoming events at Fort Collins natural areas
Many of the most beautiful natural landmarks in the region are best explored on your own two feet. The Arapaho and Roosevelt National Forests, headquartered in Fort Collins, are easily accessible from Poudre Canyon. For an unforgettable family retreat, post up at Beaver Meadows Resort Ranch where you'll have access to serene mountain trails, ideal for hiking and snowshoeing. Two photo-worthy destinations in Poudre Canyon include the Zimmerman Lake Trail and the Blue Lake Loop. The gentle incline of the former is ideal for first-time snowshoers and the latter is great year-round. Either way, you'll be met with unrivaled views of a tranquil mountain lake during these hikes. For snowshoe, trekking pole and backpack rentals, visit Jax Outdoor Gear in Fort Collins.
Shop in Old Town
Come rain, shine or snow, you'll be hard-pressed to find anything that keeps people away from Old Town. Whether you're looking for the perfect buy at a boutique store like Tula or you want to find a unique souvenir to send home at gift shops like Wadoo or Thamel Imports, Old Town has something for everyone. When it's warm out, take your family to the touch-sensor-activated splashpads at Fossil Creek Park, Oak Street Plaza or Spring Canyon Park. And when fall and winter roll in, cozy up around an outdoor firepit at places like The Exchange — a lively plaza featuring unique snacks, restaurants and seasonal events. And yes, you can finally enjoy that cup of hot cocoa you've been yearning for — you've earned it!
Want More?
Explore outdoor dining in the city
Request your free Fort Collins Visitors Guide
Watch a video about Fort Collins